Posts Tagged 'Brian'
Sunday, November 4, 2012 @ 07:11 AM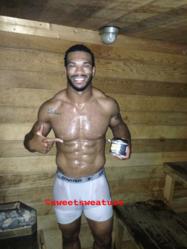 Dayton, OH (PRWEB) October 28, 2012
California-based Sports Research Corporation, the makers of Sweet Sweat thermogenic workout enhancer, handpicks Brian ?the Predator? Rogers as an MMA middleweight fighter worthy of full sponsorship. Taking a close look at his track record proves that he is an MMA fighter to watch out for in the years to come. At the age of 28, the MMA middleweight fighter from Independence, Ohio has had a total of 13 fights, 9 of which he won and 8 by KO. The Bellator 78 Fighting Championship on the 26th of October, 2012, 8P/7C against main card Dominique Steele, a fellow Ohioan, gives him an opportunity to bounce back from losing to Andreas Spang via knockout in the Bellator season 6 semi-finals. He has said that after losing by knockout to Spang, he has only grown smarter and even more dangerous as a contender.
His ferocity in the cage as an MMA warrior is also enhanced by his use of Sweet Sweat Thermogenic Workout Enhancer to cut weight weeks before his actual fight. In fact, the Bellator 78 main card fight is not the only fight where he had utilized Sweet Sweat?s thermogenic properties to cut weight, and enjoy longer workouts with reduced risks of aches, cramps and muscle pulls. He employed the benefits of Sweet Sweat?s thermogenic effects weeks before the Bellator 61 championship fight (on March 16, 2012) where he faced up against Vitor Vianna. Rogers won via knockout in just the 1st round.
He spoke about using Sweet Sweat to help cut weight before the Bellator 61 fight and had remarked that the thermogenic product also opened up the pores and warmed the core for a faster burn. He was indeed in top fighting form for his match up with Vianna. His aggressive style and background in Karate and wrestling, coupled with a talent for playing to the crowd makes any match (whether he wins or loses) worth watching. In fact, his on-the-edge-of-the-seat fight with Vianna is still the most downloaded fight on youtube.
Sweet Sweat figures in his workout scheme once again for the Bellator 78 Fighting Championship. It will remain a constant in his workout routine despite his change in game plan. Part of getting smarter and better as a fighter according to Rogers is to get to experience a variety of training styles. And he has certainly been changing training locations and working with different experts to ensure that he has what it takes to face his latest opponent, Dominique Steele.

This main card match has all the elements of an explosive match. Both Rogers and Steele are hungry for the championship and looking to bounce back from devastating losses to opponents. Both have stoppage victories under their belts. Both are training their eyes on a win to secure a spot in the next 185-pound tournament.
With Sweet Sweat, Brian ?the Predator? Rogers not only cuts weight, he also keeps himself in fighting form against any formidable opponents.
Wednesday, October 10, 2012 @ 04:10 PM

Los Angeles, CA (PRWEB) October 02, 2012
"Brian Johnson's Kindle Ritual is being released today at twelve noon EST and the internet is buzzing with excitement," reports WealthSpringMarketing.com's Tiffany Hendricks. "Everyone in the internet marketing and online publishing world knows that Kindle is what's hot right now. Kindle Ritual is providing those interested in earning an online income with a proven method for getting in on this new 'online gold rush'."
As ranking a website becomes more difficult due to recent changes in the search engines' algorithms many marketers who had traditionally profited through AdSense and CPA offers are now turning to Kindle self publishing as a means to generate revenue online.
"Many people are now referring to Amazon as 'the world's largest buyer search engine'." says Hendricks. "And those who are getting in on Kindle publishing now are having a field day."
However, some people have expressed reluctance to get started with Kindle publishing because they don't think of themselves as authors. Others are intimidated by the publishing process. Kindle Ritual intends to to solve these problems by providing what Johnson calls: "An all in one Kindle publishing and promotion software solution."
"Kindle Ritual is going to be a huge game changer for a lot of people," says Hendricks. "Sure, there are other Kindle publishing guides on the market, but Kindle Ritual is truly in a class by itself. Brian Johnson is giving his customers the exact marketing strategies and tactics he uses to publish best sellers on Kindle, quickly and easily."
While some may remain skeptical as to whether they could actually have their own best selling Kindle ebook, Hendricks offers these words of encouragement:
"Kindle Ritual takes all the guess work out and allows anybody to publish on Kindle," says Hendricks. "The software handles the formatting, cover creation and comes with a bunch of cool templates. And then Johnson's video trainings cover everything there is to know about kindle publishing and promotion using Facebook fan pages, social media sites, SEO traffic and more."
Those wishing to purchase Kindle Ritual can get the software and training at a special price during the product launch. Click here for access.
A review of Kindle Ritual is available on Hendricks' website: http://wealthspringmarketing.com/kindle-ritual-review/
Thursday, November 3, 2011 @ 04:11 AM

(PRWEB) May 23, 2011
Although the string of game changing announcements didn?t stop there. G-Cluster launched their commercial service back in September, Spoon announced their offering, and authoring monster Unity Technologies partnered with GameString.
With everyone from telcos to manufacturers investing heavily in Cloud Gaming, the sector is on the cusp of a massive explosion. However, business strategies, distribution models and advances in technology are still unclear and opinions remain divided on where the sector is headed.
On September 7-8, the Crowne Plaza, San Jose, will play host to the largest meeting of multinational companies discussing Cloud Gaming monetization, distribution and advances.
Director of Cloud Gaming USA, Alex Manessi, stated: ?The response to this conference has been staggering. After confirming 9 C-level executives to speak, we knew this was going to be a huge success. However, we could never have anticipated the industry?s excitement that there was suddenly a conference focused solely on the Cloud Gaming opportunity.?
Companies all the way from THQ, EA and Foundation 9 right the way to Gaikai, Playcast and Cisco have sent executives to participate in Cloud Gaming USA.
Manessi continues, ?This conference has a real appeal to the video-games industry as console sales drop and users migrate online. Cloud gaming platforms are being announced all over and with the rise of the connected world, core games publishers are being presented with a once in a lifetime chance to reach 12 billion connected devices. Who could ignore such a phenomenal opportunity??
For more info visit http://www.cgconfusa.com
###